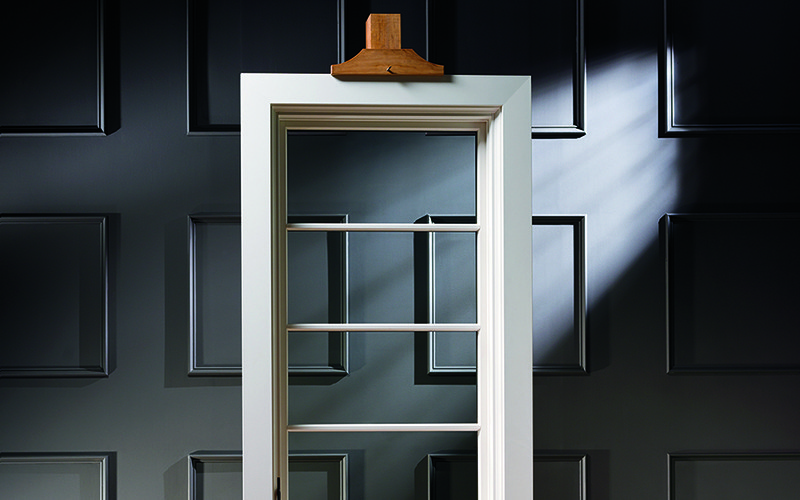 Whether you're looking out or looking in, windows are the key to changing the overall style of your home. Changing your window style allows you to revamp the design of your house and discover what archetype truly speaks to you. Once you find your style, stick with it—from walls to windows, floors to fabrics.
Modernist
The modernist style is marked by clean and simple lines, a restrained color palette, and urban materials such as steel, brick and concrete.
Rules of thumb: Use darker hues in your exterior, such as painting your home in a sleek charcoal. Stick with mostly white walls and add metal and stone accents. Warmth can be introduced with wooden fences or windows.
Windows and doors: Tall or wide simple glass windows with no grills open up the home to the outdoor landscape. Go extra tall or wide by working with Pella to create a custom window that opens up your space. A black stain lends a nice contemporary finish, and a crank of a casement window maintains the clean silhouette. For the entry door, think unadorned and sleek. Choose decorative glass and patterns in geometric shapes. Accent the door with minimalist nickel hardware.
Traditional
Classic interior design involves upholstered chairs, dark woods, formal touches, billowing curtains and pretty patterns.
Rules of thumb: Symmetrical arrangements establish the formal appearance of traditional rooms. Placing pairs of chairs, wall hangings, or accessories is generally a good place to start. Then layer in dark-stained antique tables and chairs, ornate patterns, and a few fancy touches such as a gold mirror or chandelier.
Windows and doors: Opt for a rich mahogany door, then accent with intricate window grilles and brass hardware. For the windows, choose wood to match the door, or paint windows a clean white. And go as bold as you'd like with your drapes or curtains—think elegant patterns and deep colors such as red or mustard. Say yes to tassels and other adornments.
Eclectic
Eclectic style combines various fabrics, patterns, and art pieces. The trick is to lay them out in a harmonious way that doesn't look cluttered.
Rules of thumb: This highly curated look takes finesse. Try creating a focal point with an accent wall or fireplace or large painting, and then fill the room with disparate styles and periods that share a unifying color—be it chartreuse or a simple white.
Windows and doors: Large, white window sashes throughout the space make for a light-filled house, which will give the eclectic rooms a clean, bright feeling that'll prevent the space from feeling crowded or busy. A bay window can be an ideal focal point in an eclectic room. Keep doors simple—no grilles, just a simple sash painted white, black, or a bright color that matches the entryway.
Mediterranean
Live your dream vacation every day, surrounded by white stucco, a red roof, and pretty tiles. A sparkling pool completes the "always on vacation" look.
Rules of thumb: Paint the walls in warm colors such as sand and earthy orange, and arrange pretty ceramic tiles along the walls. Choose heavy, sturdy furniture with short legs and, if possible, intricate carvings. Opt for colorful silk accent pillows, and bronze accessories such as candlesticks.
Windows and doors: A Mediterranean-style home with a red tile roof and stucco walls requires a wood or a wood-look fiberglass entry door. Even better if the door includes metal hinge straps and distressed bronze hardware. Frame your windows in gauzy white or cream curtains.