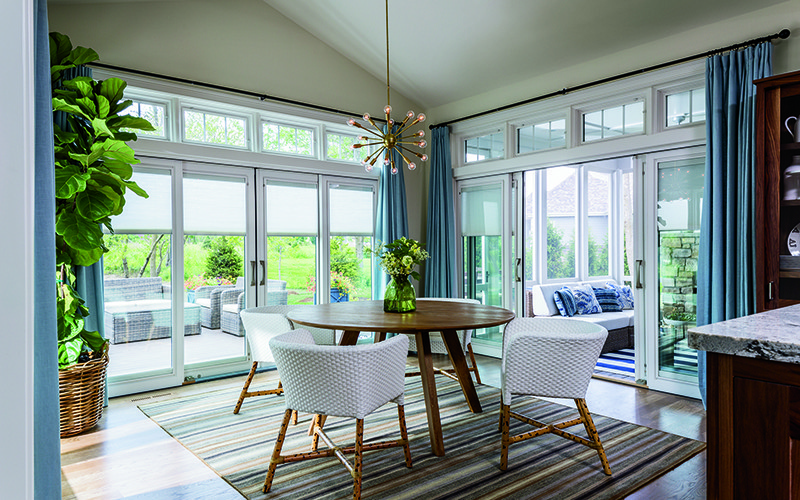 If you have beautiful windows already, you might consider giving them a different feel with new accessories. Changing your window dressing—whether that means outdoor shutters or indoor shades—alters the whole look of not only the window, but also the house itself. Here are six ways to give your windows a refresh.
Blinds
Long considered the most affordable option, blinds can also be a big style upgrade for your windows. Metal or aluminum blinds are popular for their affordability and function, but if you like the look and ease of blinds, consider upgrading to woven or wooden blinds for a more sophisticated look. And if window replacement is on the horizon anyway, consider blinds between the glass—it's a real game changer when it comes to cleaning!
Shades
Made of fabric, shades are more expensive than blinds. Keep in mind that shades can bring a new level of sophistication, beauty, and personality to a space. They don't allow for adjustments the same way that blinds do, but these window treatments come in varying levels of transparency. There are three main types: roller, which pull down from a tube like wrapping paper; Roman, which cascade in folds like drapery; and cellular, which are made of pleated chambers that provide insulation. The thicker the shade, the more energy efficient it is—keeping your home from overheating and your air conditioning bills low.
Curtains
Curtains are a decorating staple that's worth the splurge. If you're going to choose curtains for your room, we recommend putting your budget towards quality materials—lavish velvet or good linen—in bold colors or fun patterns. Note that sunlight fades fabrics over time, so it's smart to avoid rich-colored curtains in a bright room. Once you've found your perfect curtains, be sure to hang them so they rest one inch above the floor.
Interior Shutters
Indoor shutters offer a nice, solid frame to your window. There are several types of shutters to consider for your space. Full-height shutters cover the whole window, while tier-on-tier shutters separate into top and bottom panels that can be opened independently. Café-style shutters cover only the bottom half of the window, and are sometimes used along with drapes. Solid shutters don't have the slats that you generally associate with shutters, so they are great for a full "blackout" effect in a bedroom or guest room. Half-solid shutters have a solid lower panel and slatted upper half. Most often, interior shutters are painted white or stained a natural wood, but consider any tone that will work with your interiors.
Exterior Shutters
Exterior shutters—placed around your windows or even patio doors—are a great way to add pops of personality and color to the outside of your home. Louvered shutters, with slats, are the most common kind. Consider louvered shutters in three or more bands as they are less prone to warping, and stronger than shutters with fewer bands. There are also board-and-batten shutters—in which flat boards are butted together and held in place with a batten to make a solid surface—which tend to have a more relaxed feel than louvered shutters. Bermuda shutters, hinged at the top and held open with support rods, were designed to capture ocean breezes, and are a great choice for coastal homes.
New Windows
Choosing the windows of your dreams doesn't have to be difficult. It may just inspire a completely new style for your home—one that can make your house seem brand new!