Fitness
Why Vacation Shouldn't Mean a Vacation from Exercise

+

It'll bring new meaning to "going home refreshed."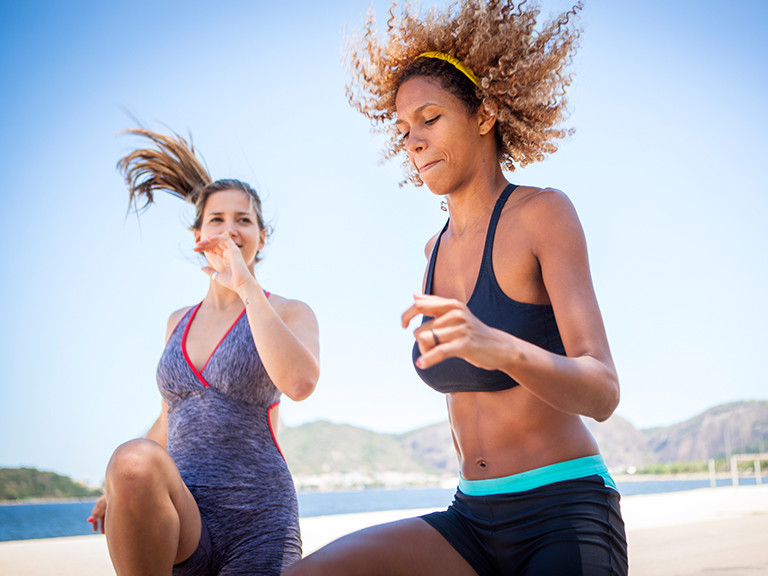 It's easy to make excuses for skipping the gym on vacation. You've got sights to see, meals to eat, beaches to sit on — and who could blame you? You deserve it. But a recent small study suggests that you should still try to work in some physical activity.
Researchers worked with 45 regularly active adults (meaning they walked at least 10,000 steps per day), some of which had a close relative with type-2 diabetes. They found that just two weeks of reduced activity levels lead to some loss of muscle mass, an increase in body fat, higher blood sugar, higher LDL cholesterol levels (the "bad" kind), and a decline in cardiorespiratory fitness — yikes! Furthermore, the participants with a diabetic relative had greater cholesterol and fat level increases. The good news? All these measurements returned to their previous baseline once the participants resumed their normal activity, but the changes in just those two weeks were considered significant. While this is just one small study and more research needs to be done, it certainly can't hurt to keep being active while on vacation.
Fortunately, it's easier than ever to keep up your fitness routine while you travel—and more than half of Americans say they believe it's important to do that, according to a recent study conducted by Expedia. To stay on track, try working these easy-to-accomplish fitness tips into your next vacay.
1. Choose Your Hotel Wisely
These days, hotels are thinking beyond the fitness center. At Westin, you can borrow workout clothes and sneakers for just $5 (hello, extra bag space!), and many of their properties can provide short running routes, or even a concierge to lead a group run. Hilton has a new program called Five Feet to Fitness at certain locations (including Orlando, Austin, and San Francisco), which provides guests with tons of workout equipment and fitness tutorials right in your room (for about $45 to $90 more per night than standard rooms). Many smaller properties offer daily fitness classes in house too, so squeezing in a workout becomes part of the experience, not just a chore you need to check off.
2. Bring Your Trainer With You
If you do want to hit the hotel gym (or just do a workout in your room), you can still get a class in—you've got choices at your fingertips. Download the Nike Training Club app for 100-plus free workouts, or sync your Fitbit Iconic or Versa device with Fitbit Coach and you'll get personalized workouts delivered right to your wrist for just $40 a year (audio coaching and personalized video exercises come on the smartphone app). And video workout platforms are bringing more niche workouts to everyone: Obé streams 28-minute classes by NYC-based trainers from Project by Equinox and Studio B for $27 per month, and ClassPass now has a standalone subscription streaming service for $15 a month.
3. Remember That the Gym Isn't the Only Way to Stay Active
No matter your workout of choice at home, vacation can be the perfect time to challenge yourself. Sign up for destination-specific activities like rock climbing, surfing, stand-up paddle-boarding, or mountain biking—all of which burn a ton of calories and are way more fun than slogging it out at the hotel gym. You can also book unique fitness outings with Airbnb Experiences, which are activities led by locals who are passionate about sharing their talents and interests in sports, wellness, and getting outdoors (among other things)—think surfing in Lisbon or silent disco beach yoga in San Francisco.
4. Skip the Tour Bus
You know how most activity trackers want you to hit 10,000 steps per day? That's because 10,000 steps, for most people, translates to five walking miles. And five miles is a lot! Plus, slow travel can actually provide a more enriching experience. When you're walking, there's no window between you and the attractions you're ogling, and you can venture further off the beaten path and explore more sights and shops that you'd otherwise have missed. Swing by your destination's tourism information center for local offerings, or check out companies like Free Tours By Foot for tours in major cities across the world.