Beauty
Here's How to Put the 'Beauty' in Beauty Sleep

+

Snooze your way to softer skin and lips.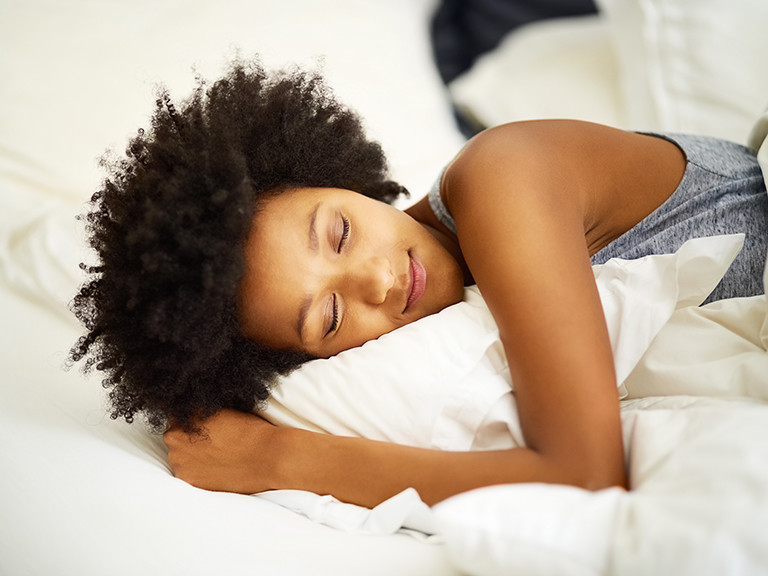 It's called beauty sleep for a reason: With enough of it, your skin feels fresh and radiant, and you might even have patience to contend with your hair. And without it, all bets are off: from dark undereye circles to dull skin, skimping on sleep can make you feel like you need concealer as much as coffee. So it's worth getting your full eight hours—and while you're dreaming, you might as well maximize sleep's restorative beauty benefits with a few smart steps. Try these clever tricks before bed to wake up looking as refreshed as you feel.
Style Smarter
For a guaranteed good hair day when you wake up, all you need is a little styling prep in the evening. Try this trick, which works for straight to wavy hair: Before you head to bed, lightly dampen your hair, work in a smoothing styling cream with your hands, divide your hair into two sections, and braid both. Braids not only create body and minimize friction during the night—which can lead to frizz and breakage—but they also prevent hair from getting tangled or matted as you sleep. In the morning, all you have to do is undo them, tousle, and go. For curls, try pineappling: Simply wet your hair with water, pull it to the top of your head, and loosely secure with a scrunchie. It'll keep tight curls intact with stretching them out.
Hydrate Your Lips
If your lips are dry or chapped, applying lip balm throughout the day is (obviously) a good idea. But as you have to talk, eat, and drink that third cup of coffee, all of which can rub it off, its benefits only last so long. That makes overnight the best time for treating your lips. After brushing your teeth, swipe on ChapStick Total Hydration Vitamin Enriched Lip Night Serum, which deeply moisturizes as you snooze with a nourishing blend of evening primrose oil and vitamins C and E. You'll wake up to soft, smooth lips!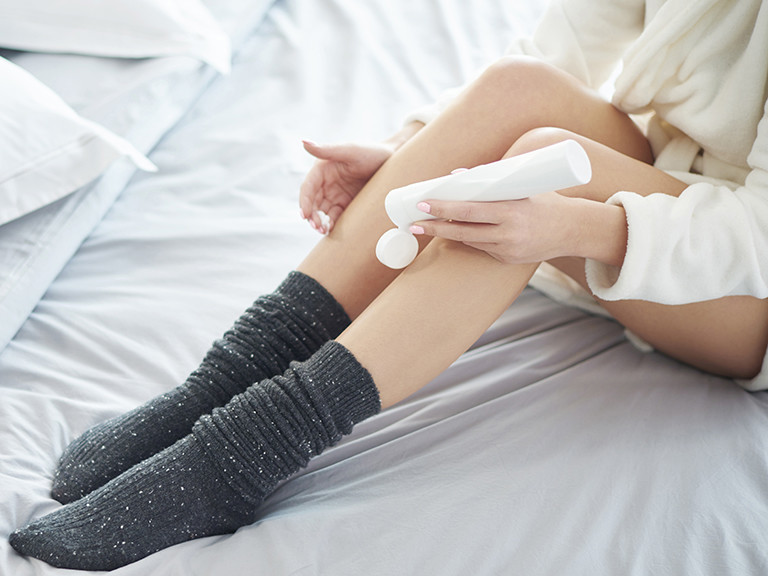 Treat Your Feet
While you may be on top of applying hand cream after each time you wash, the same likely doesn't go for your feet—which is why they're especially prone to getting dry, rough, and cracked within days after a pedicure. Soften them while you sleep by applying a super-rich, deeply moisturizing foot cream, slipping on a pair of socks (to avoid a mess), and hitting the sheets. By the time you wake up, they'll be so soft and smooth that you might be tempted to pull out sandals.
Mask and Snooze
Nighttime is when your skin finally gets a well-deserved break from the sun, pollution, and other environmental aggressors—and can therefore get to work repairing the damage from the day. And, since you're likely not wearing makeup, you can take advantage of this lull in your routine by applying an overnight mask before bed. Overnight masks are designed to deeply nourish skin without getting all over your pillow, and can hydrate skin for hours. Once you're out of bed, all you'll need is to splash off any residue, apply SPF, and go.