Nutrition
6 Tips for Healthy Eating This Holiday Season

+

From managing food restrictions, to preventing overeating, dieticians share their tips to help you make the most of your holiday dinner.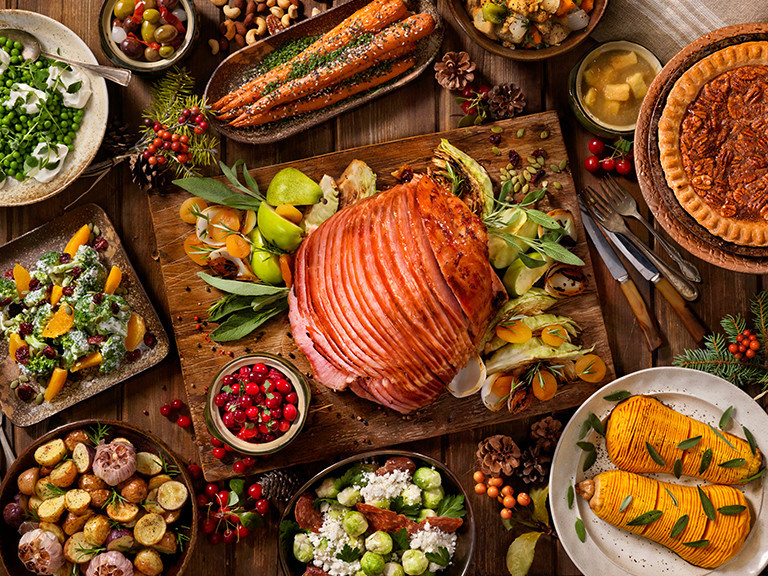 Food always plays a big role during the holidays. Who can resist holiday classics like holiday ham, mashed potatoes, and mac and cheese? Sticking to your eating habits during the holiday season isn't always easy, whether you follow a certain diet or suffer from an issue like frequent heartburn. But there's no reason let that stop you from eating your favorite holiday foods. Here are six ways to make food rules less of a chore this year so you can enjoy the deliciousness that the holidays have to offer.
1. Don't Wait to Eat
If you've ever skipped breakfast or lunch just so you can feel better about splurging later, you're not alone. "I think we all go into the holidays with this scarcity or abundance mentality," Maya Feller, MS, RD, CDN, author of The Southern Comfort Food Diabetes Cookbook: Over 100 Recipes for a Healthy Life says. "We think, I'm going to have this huge meal, therefore I'm going into scarcity mode to save up for the abundance that's coming later."
However, that mentality sets you up for being overly hungry, Sammi Brondo, RD says. "You end up eating quickly, which means you end up eating more food, and by the time you realize you're full, you're likely overfull."
Instead of skipping meals, eat breakfast, lunch, and snacks as you normally would; you're more likely to feel satisfied and in control of your choices during your big holiday dinner.
2. Survey Your Options
You might be tempted to put a little bit of everything on your plate as you see it, but that can lead to unbalanced meals and overeating, especially if your dinner is in a buffet-style setting.
"Research says that you generally eat the most of whatever's at the beginning of the buffet," Feller says. "And usually the hearty foods are at the beginning and the vegetables are at the end."
No matter the setup of your meal, you should take stock of what's being offered before digging in. That way you can make informed choices about how to build a balanced, fulfilling plate.
3. Don't Bother with Foods You Don't Like
This may seem obvious, but if you scan the room and see foods that you're on the fence about, just skip them. "There's an urge to put everything on your plate just because it's there," Brondo says. "But if mashed potatoes are a food that you don't actually like that much, don't add them."
In theory, that will allow you to eat more of the foods you do like within the confines of your dietary plan. "If there are cookies and pie and you're not a pie person, wouldn't you rather have two cookies versus one cookie and a slice of pie?" Brondo adds. Now that's enjoyable!
4. Remember: You Can Eat Holiday Foods All Year Round
If you treat the holidays as your one chance to eat cheesy dips or decadent desserts, you're bound to overdo it. "It's called 'Last Supper' mentality," Brondo says. "You think, Let me eat all of this before I can't do it again. And you eat much more than you would have."
Instead, remind yourself that you can always have more tomorrow. Make a plate of leftovers for the next day or get the recipe to make it in the future. And if all else fails, you can probably still get that pumpkin pie in the store the next day.
5. Modify Your Foods
If you're cooking this year, you have more control over the foods that you're serving. That means you can get creative with how you prepare them, too.
"I'm a big modifier," Feller says. "I have found through testing in the kitchen that if I'm making something like pancakes, I can actually change the nutrient profile or carbohydrate content of it so that it could fit somebody who is thinking about their blood sugars—while also keeping that flavor."
Similarly, if you're thinking about lowering your lipid intake, you can adjust the plant-to-meat ratio in dishes like meatloaf. "You can use mushrooms, celery, and zucchini, and instead of doing a quarter of the vegetables and three-quarters meat, you can do half and half," Feller says.
6. Give Yourself a Break
It's understandable to not want to deprive yourself of your favorite foods during the holidays. If you're able to do so (and it's not medically necessary), it's ok to set aside your dietary restrictions for the day.
"A lot of times [our restrictions] are coming from these subconscious rules that we set or ideas we have about health," Brondo says. "And if the restriction isn't something that is medically necessary or something that you really do feel better without, I would challenge it."
If your restriction is a food sensitivity, see if there are any preventative measures you can take. For example, if you're prone to frequent heartburn (aka heartburn that occurs two or more times a week), taking Nexium24HR every day for 14 days can help ease symptoms, allowing you enjoy your favorite foods during the holidays.
And if you do break a rule that you wholeheartedly intended to stick with? That's okay, too—you can get back on the proverbial wagon if you want to. "Whatever food interaction you have in that moment is that moment, and it's not representative of the entire day or season," Feller explains. "Get rid of that all-or-nothing mentality."