Nutrition
4 Comfort Foods Made Healthier Thanks to Chef Sunny Anderson

+

"Comfort is more than just the flavors. It's the memories."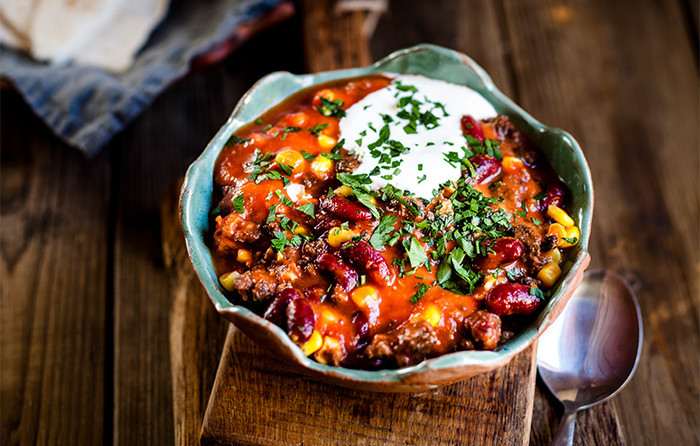 Sunny Anderson has made a name for herself cooking food that fits people's busy lifestyles, but also her own. "I want to get this food to the table regularly," says the chef, TV personality, and cookbook author. The last thing I want to do is stress myself after a day of work." Growing up, her mother would make elaborate dishes that could take days of preparation, but Anderson likes to focus on creating delicious comfort dishes that are easy to throw together and with a healthy twist.
To make sure old favorites pass the comfort test, Anderson considers three key factors when adapting recipes: how the dish tastes, how it looks, and how it makes you feel, because as she says, "comfort is more than just the flavors. It's the memories." Read on to learn her tricks for these satisfying staples:
Grilled cheese:With just three ingredients — butter, cheese, and bread — a few swaps can make this sandwich healthier. Substitute the butter with light mayonnaise, which is both easier to spread and has a higher smoke point, which means your sandwich will have a crispier texture. And no, your grilled cheese won't have a strong mayo flavor. Opt for a low-fat version of your favorite cheese and switch white bread for whole wheat bread: ideally a white whole wheat, which is less refined than white bread but looks similar, Anderson suggests, "You can still have that curb appeal from growing up. It's gotta look like it and feel like it."
Chili: The base of chili isn't that unhealthy (though it doesn't hurt to go with a low-sodium stock). Instead, it's the toppings that can take the dish from tasty to too much. "I used to go crazy, like everything on top of a baked potato was going on my chili," Anderson says. But now, Anderson's favorite chili topping is Greek yogurt, which the chef uses to replace sour cream and cheese. Greek yogurt has more protein and fewer fat and calories than sour cream and cheese, she explains. And having something light and tangy on top can give your mouth relief from the heaviness and potential greasiness of chili, acting similar to a palate cleanser. Best of all? Anderson's served Greek yogurt-topped chili to others and according to her, "they had no idea."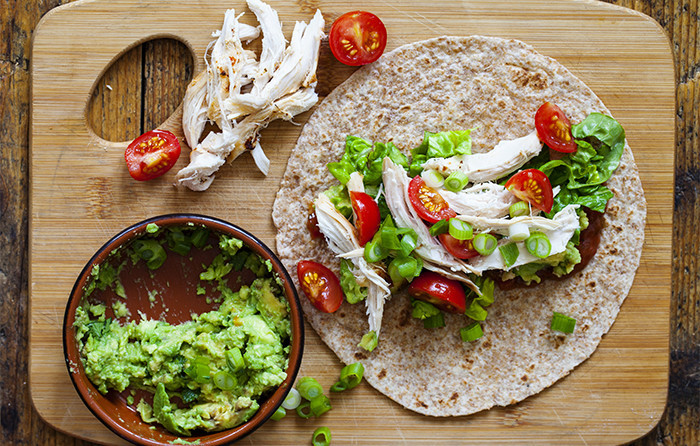 Tacos: While wheat tortillas are the better option over white flour tortillas, Anderson suggests taking a few extra minutes to make your own regardless. That way, you know exactly what's going into them. Tortillas are easier to make than you might think. All you need is flour, a leavening agent, salt, and a fat. While lard is commonly used, you can substitute lard with a healthy cooking oil, or you can use whole wheat flour instead of white all-purpose flour. (For a corn tortilla recipe that uses only corn flour, salt, and water, click here.) Besides the tortilla, the key to a satisfying taco is texture. "When it comes to putting things inside, always just think about crunch," Anderson says. Go for healthy proteins like black beans and lean meats, like chicken, then add fresh vegetables. Anderson likes to add slices of fresh jalapeño, bell peppers, and lightly sautéed with onions. To finish off her tacos, she sprinkles them with seasonings, like cumin, for an extra flavor punch.
Mac and cheese: Anderson admits that mac and cheese, a favorite of hers growing up, is challenging to make healthier, although using low-fat cheeses and less cheese overall can go a long way. Instead of totally revamping them, try to keep rich comfort foods like mac and cheese for special days, Anderson suggests, like birthdays and holidays. "My mom and my grandma made it so well and not all the time. So, when I got it, it was so exciting." Anderson also recommends being mindful of portion sizes. "Sometimes, comfort is handled in the first bite," she says. "You don't really need to eat the entire tray to remember how you felt when your mom served it to you."